Imagine a vibrant working space bustling with energy and activity, filled with a diverse range of professionals related to different fields working for varied companies – collaborating and sharing ideas. That, in essence, is what a coworking office space is all about – a modern, flexible & innovative workspace solution that has revolutionized how the work is done in the current times.
Coworking is not a new concept that has just sprung up in the last few years. Sure, the term 'coworking' may be a new addition to the business lexicon, but people sharing a workspace with other professionals is nothing new. Historically artists, musicians, and other creative professionals have worked in a communal space and shared their ideas – one only needs to look at some of the biographies of famous personalities in the 19th century.
But while the modern concept of coworking provides a huge opportunity for entrepreneurs, freelancers, and business owners with a massive opportunity, one question still needs to be answered – are they really worth it? Why should one consider a working space instead of renting an office or working from home? Here we will explore ten compelling benefits of coworking and why it is an excellent option for small businesses.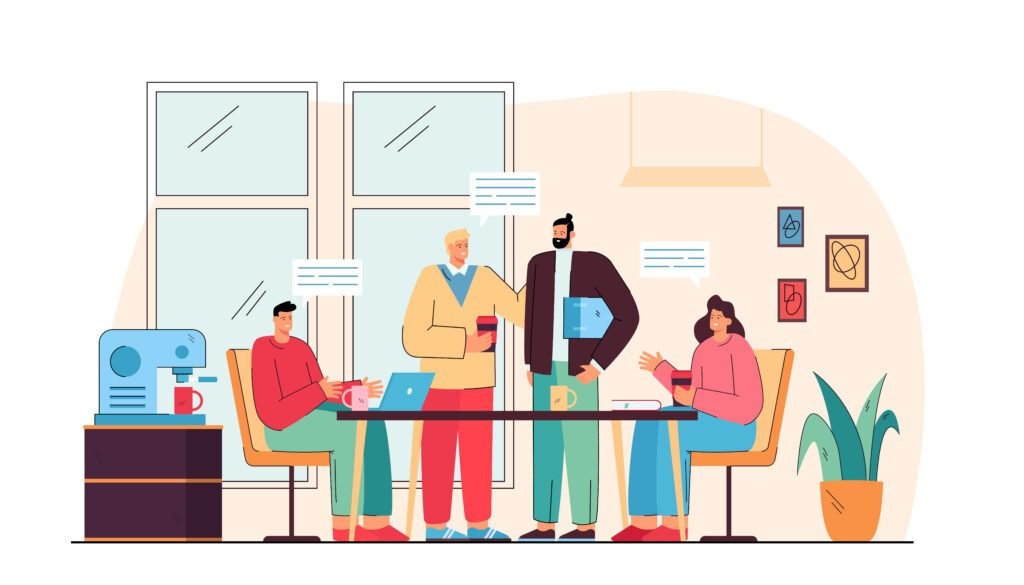 Benefits Of Coworking Office Space For Small Businesses
Here are some of the top advantages for small businesses to opt for coworking office space for their operations.
1. Increased Opportunities For Networking
Without a doubt, one of the biggest – and many would say the most significant advantage of operating from a coworking space is the excellent opportunity it provides for networking with other professionals in different industries. Being surrounded by a diverse range of people with varying skills and different backgrounds can create new and unexpected opportunities for collaboration & growth.
Small businesses can leverage these networking opportunities to find new clients and seek collaborations and partnerships. They can even gain mentorship from experienced professionals.
This is a sentiment that is echoed in the recent survey conducted by Small Business Labs, where 82% of the respondents agreed that coworking had expanded their professional networks. 64% of respondents in the same study also stated that it was also an essential source for their business referrals.
2. Flexible Offerings
Coworking space in Noida and other major commercial hubs have become popular, especially for small businesses. And one of many reasons behind this phenomenon is the flexibility they offer compared to traditional office spaces, especially with their membership plans.
It is standard for coworking spaces to offer a wide variety of membership options that cater to the different needs and budgets of their clients. Small businesses can easily choose from part-time access to a desk or a completely private and dedicated workspace, allowing them to scale up and down as needed without being tied to a long-term lease. Understandably, this is a significant advantage for small business that needs to adapt to changing circumstances quickly and as painlessly as possible. This ability to adjust workspace requirements on the fly is invaluable for small businesses, as it allows them to remain agile and responsive to changing market conditions.
3. It Is A Hub Of Ideas
A coworking space is often touted as a hub of creativity & innovation, exposing professionals to a diverse group of entrepreneurs, freelancers, and other working professionals. The coming together of this diversity of talent and perspective in one place can easily spark new ideas and ways of thinking – even ideas that one might not have even thought of being possible before.
This is a significant advantage that coworking office space has over traditional office settings, as employees there might be limited in their interaction. In most cases, they would only connect with colleagues that are already part of their team or department – resulting in a narrow focus and lack of inspiration. However, in coworking spaces, individuals can interact with others leading to the cross-pollination of ideas and the emergence of new approaches to problem-solving.
4. Improve The Professional Image Of The Company
Working in a shared coworking space can do wonders for a small company's professional image – especially one competing against some of the more prominent players in the industry. These spaces are designed to cater to all sorts of professionals and businesses alike, providing them with a collaborative and professional environment. It is not just about having a desk to work from but creating a professional image of your brand.
By having a dedicated workspace, such as those available in coworking spaces, businesses can easily present themselves as professional and organized – both to their clients & to their partners. There is also likely to be a meeting place where companies can host meetings and other professional activities. It is simply a more professional setting than meeting in a coffee shop or a home office.
5. Reducing Operational Costs
Folks familiar with running a business operation would be familiar with the astronomical expenses they have to face – renting office space is just the tip of the iceberg. From small expenses like printer toners to even refreshments to a bit bigger costs such as high-speed internet connection and office furniture, it keeps adding up. For small businesses with limited financial resources, this can be a nightmare to navigate through.
Fortunately, coworking spaces offer the perfect solution to this problem. They come with adequately equipped office space with all the amenities that are commonplace in any office space. This helps businesses avoid the hassle of establishing their own office space from scratch – something that is both time-consuming and expensive.
Simply put, coworking spaces provide the most cost-effective way for small businesses to run their operations. Small businesses can run their operations by working in a shared workspace without incurring the costs of setting up their own office.
6. A Substantial Increase In Productivity
These spaces offer a unique blend of work environments that caters to all sorts of work styles and promote productivity in a way that traditional offices are not able to match. They also have a leg up over working from home as distractions there can easily derail one's entire workday. This is undoubtedly not an issue that one would have to face when working from a coworking space.
Simply by transitioning into a working space, a business can ensure that their employees are in a 'job mode," resulting in enhanced productivity. And it is not a tall claim, as study after study has shown that an overwhelming percentage of professionals believe that working in a dedicated environment helps them concentrate better, resulting in a higher level of productivity.
7. Better Work-Life Balance
A coworking place is more than just a place for work – it can provide that essential work-life balance that every working professional craves. It is also not something that any business owner can neglect, as the overall well-being of their employees should be on the shortlist of their top priorities. And with flexible hours and various amenities, coworking office spaces can help people manage their time more effectively.
In addition to the physical perks that come with working in such an environment, coworking spaces also offer a sense of community and support that can help the individual working there. It will result in reduced stress and improved mental health.
8. These Spaces Are Sustainable
Coworking workspaces are an excellent choice for businesses that want to prioritize environmental responsibility. It is standard for coworking spaces to take eco-friendly measures such as the use of energy-efficient equipment, recycling waste, and promoting green practices on their premises. And while these might be small steps, they can still have a considerable impact in reducing the carbon footprint of the workspace and working towards a sustainable future for all.
It is also relatively easy for everyone to participate in such a mission as all the facilities are provided directly at the workspace, with the employees needing only to follow the guidelines and adopt a more environmentally conscious habit.
9. A Convenient Address For The Businesses
For small businesses having a professional working environment is not enough; their location needs to be conveniently located – for both their employees and their clients. Coworking office spaces are often situated at a site that is close to public transportation options as well as dining facilities – making it easy for members to access everything they need throughout their workday.
They also enable small businesses to easily invite their clients to an inviting and professional space at their convenience, which certainly can help build trust and credibility.
10. Access To Professional Services
Coworking spaces are a hub of resources and opportunities for those who ply their trade there. Small Businesses would also have the chance to connect with professional services providers – such as accounting firms, law firms, and even marketing agencies all under one roof. Naturally, they can quickly vet these services provider and tap their expertise at a discounted rate. This would be particularly beneficial for small businesses that may not have the budget to hire full-time staff for these services.
Access to these professional services can be a valuable asset for small businesses that are looking to grow and thrive in a highly competitive market.
Conclusion
Coworking spaces are the ideal solution for small businesses that want to succeed in this cutthroat environment where even a single misstep could be disastrous. Not only would one be able to enjoy many of the benefits of working in a professional setting, but one would also not have to worry about the costs and even the responsibilities of managing such a space.
Simply put, these spaces are valuable resources for small businesses that want to succeed. These coworking spaces would provide them with all the tools they could ask for.