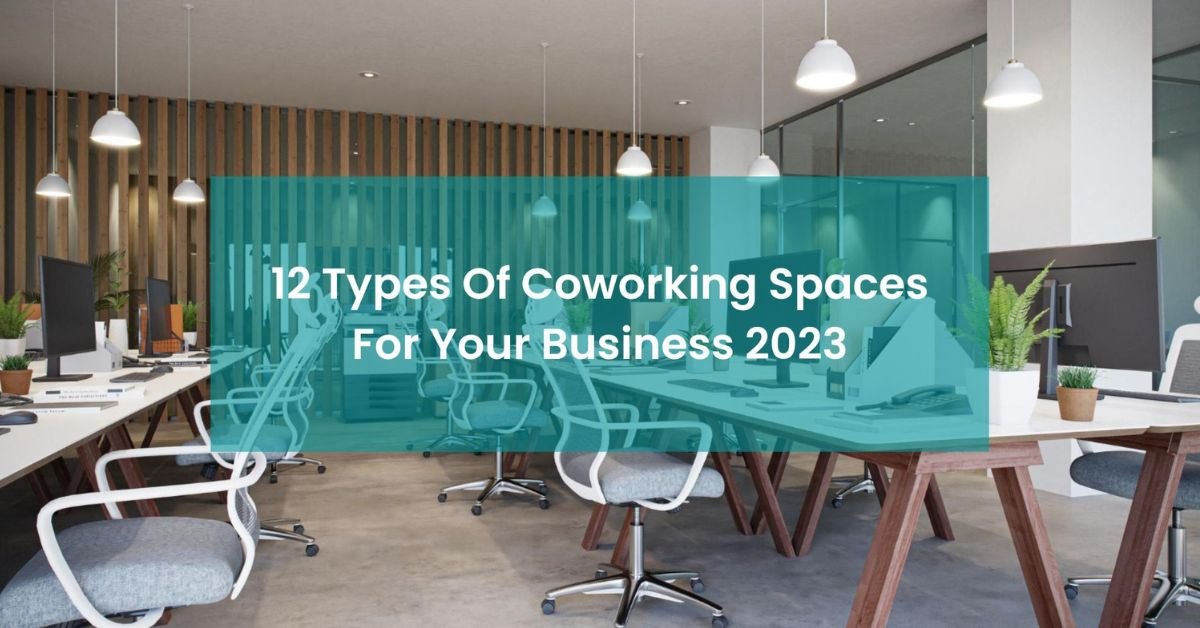 Coworking Spaces have come a long way since their inception, evolving into diverse ecosystems that cater to various professional needs. As we approach the final quarter of 2023, I can't help but marvel at how diverse these spaces have become.
Now, regardless of what type of business you own or whether you are a freelancer or consultant, there is a coworking space perfectly tailored for you. But which one is the ideal fit for your requirements?
Here, I will walk you through the 12 different types of coworking spaces out there. This post will also help you identify the one that best aligns with your business requirements. But before that, let's first define what is coworking.
What Is Coworking?
Coworking is a modern approach to work that involves sharing workspace with other professionals from various industries. This setup promotes collaboration, networking, and a sense of community that is often missing in traditional office environments. Freelancers, start-ups, and remote workers prefer coworking.
Coworking space, in the simplest terms, is a shared working environment where professionals belonging to all sorts of fields come together to work, either independently or collaboratively. These spaces are often filled with essential amenities like Wi-Fi, meeting rooms, and communal areas, providing a flexible alternative to traditional office settings.
Now, without further ado, let's get to the topic at hand – the many types of coworking spaces that one can find in the current work environment.
12 Different Types Of Coworking Spaces
Conventional Coworking Spaces
There is no better place for us to start our foray into this topic than with the traditional/ conventional coworking spaces that we know and love. These are the coworking spaces that you first imagine when you think about coworking spaces around the world. And dare I say, speaking from my personal experience, you will instantly be taken in by its relaxed and vibrant atmosphere.
These spaces are designed to accommodate a diverse set of professionals at the premises. From freelancers to start-up teams and even established businesses, you will find all sorts of workings here at conventional coworking spaces – all belonging to different industries.
What I also found during my experience is the blend of dedicated desks, hot desks, and communal tables at the facilities. However, don't let the laid-back setting of this place fool you; some of the most innovative ideas that we see in the market were born in these spaces.
High-End Coworking Space
The next on my list is the highly recommended High-End, Full-Service coworking environment.
Imagine working in a place that feels more like a luxurious retreat than an office – that, in the gist, is what a high-end coworking space is. A High-End coworking space is a level up over your typical coworking solutions, providing additional amenities and benefits that are unmatched anywhere else. Here, not only will you find amenities such as private meeting rooms, but these spaces also go the extra mile with in-house chefs, high-end coffee bars, and even wellness rooms for relaxation. Working parents should not be surprised to find a baby care facility on the premises.
These are the kinds of spaces where you can really impress clients and investors while at the same time getting your job done. It is a perfect setting, especially for high-caliber networking professionals.
Corporate Coworking Space
In contrast to the more laid-back aspect of the traditional coworking spaces, we have corporate coworking space that brings an air of formality and structure to the space. One look at the premises and you would think of it as more of a traditional office setup than a shared coworking space.
Unlike your average coworking spaces, these corporate coworking spaces are built to serve the specific needs of larger teams and established teams. And this is precisely whom they cater to. These spaces have an ambiance that is professional and has facilities, including high-tech meeting rooms, dedicated IT support, and an array of services catering to corporate compliance and protocols.
For businesses that are looking to temporarily or even permanently move their offices without impacting their operations, opting for a corporate coworking space would be a suitable choice.
Private Workspaces
Now, this is a category of coworking spaces that is subject to some arguments. Many consider private workspaces to be a feature of a traditional coworking space, while others think of it as a completely unique category, especially when it is separately offered. For this post, I have opted to think of it as one of 12 types of coworking spaces.
Private workspaces are tailor-made for companies and teams that are concerned about the shared aspect of the coworking spaces. After all, having to work in a communal space can cause distraction and result in loss of focus.
Each office is fully furnished and lockable, providing a secluded space for members to work. Members would have access to amenities such as fast and uninterrupted Wi-Fi, a private kitchen, and conference rooms that are all unique to the company.
Minimal / Bare Bones
For those among us who crave simplicity, there could be no better match for our coworking needs than minimal coworking spaces. The word 'simplicity' oozes from this space.
The minimalist coworking spaces are heavily inspired, as evident by their name, by the minimal approach to work. These spaces cut through the noise to offer just the basics. Here, you won't find the bells and whistles that clutter other coworking environments. Instead, it is all about fostering an atmosphere that allows members to focus on what truly matters – their work.
However, do not think of the minimal approach as lacking essential amenities. That is certainly not the case at all. You would still have access to Wi-Fi, security protocols, and even printing facilities at some of the locations. The aim here is to create working spaces that are generally quiet, casual, and somewhat dimly lit.
Subleased
Subleased working spaces are pretty unique, not only because they can be quite tricky to define but also because of their unpredictable nature. Members are essentially working in an area that is chosen by someone else entirely. Compromise and adjust are some of the key terms that you would hear with this category.
However, this type of workspace comes with its own set of benefits, often highlighted by terms like 'budget-friendly' and 'prime location.' These spaces can offer some incredible deals, plus the location of these spaces is usually in a high-demand area that you might not otherwise be able to afford. So, while compromise and flexibility are essential, the benefits can make these adjustments worthwhile.
Lifestyle
It would be fair to say, and I don't think any reader would disagree with me, that lifestyle coworking spaces are something of a revelation. These spaces are designed to seamlessly blend work and life seamlessly – and they do that masterfully. However, it is also true that lifestyle is also a category that is quite broad, so you have to be quite careful in choosing the suitable workspace for your requirements.
Each time I tried one of these, I found myself welcomed in a lively, casual atmosphere with a varying degree of privacy and noise levels. Keep in mind that the lifestyle coworking spaces are essentially a reflection of the business that hosts them. This certainly makes them a versatile choice for many.
Industry-Specific
If you are someone who is involved in a specialized field such as healthcare, law, or the arts, industry-specific coworking would be nothing short of a godsend for you.
As evidenced by their name, these spaces are focused on catering to a subset of the professional community. But what truly differentiates these spaces is their remarkable ability to cater to niche professional requirements. They also offer unparalleled customization and privacy options to their members.
Now, the atmosphere of these spaces would depend on the specific industry they are designed to serve. Take the instance of a specialized coworking space that is designed for legal professionals. It is highly likely that you will find the atmosphere more formal and quiet, especially ones that are designed for creatives and so on.
Women-Centric Coworking Spaces
Industry-centric coworking spaces are not the only specialized solutions out there in the market. Women-centric coworking spaces are gaining traction, and for a good reason.
Recognizing the unique challenges that working women face, like navigating glass ceilings and juggling multiple roles, these spaces are designed to become a haven for professional women. These spaces do not just offer a desk and Wi-Fi; they are a lifeline extending far beyond standard coworking space.
Some of the features include:
On-Site Childcare facility
Lactation Rooms
Curated Networking Events aimed at empowering women
Even dedicated commuting facilities
Accelerated
Accelerated office space is a term that many have yet to hear of. Still, it is a particular favorite among accelerators and startups that are looking for a relaxed, energetic, and collaborative environment.
Ask any software developer or even a startup owner who is utilizing these spaces, and they will not stop raving about them. Not only would they have access to everything they might need, including an area where they can gather all their team members, but the energy of this space is also something else here. It is almost palpable – and why would it not be? After all, it is a breeding ground for the next big idea.
In addition to this, another benefit of these spaces is their budget-friendly aspect. So, is it any surprise that startups that are trying to keep their expenses in keep gravitating towards these solutions?
In our post-pandemic world, remote working has become a standard part of professional life. Businesses across the globe are adapting work-from-home setups for their employees, and they have been a hit! But even then, there is still the need for meeting spaces in the market, and this is where meeting spaces come into handy.
Businesses and freelancers, myself included, are increasingly opting for these rent-by-the-hour or day setups. These are not just rooms with chairs and a table. They are fully equipped tech hubs that can handle anything from video conferences to high-stakes client presentations.
If your work revolves around client meetings, workshops, or team huddles – then these flexible meeting spaces will prove to be highly beneficial for you.
I have already covered the rise of remote working solutions, especially in this post-pandemic world. But there is one another we must cover that does not include the professional needing to leave the comforts of their existing workspace and move to another physical location. I am naturally talking about virtual offices.
The concept of virtual offices is nothing new. In fact, this has been around for spaces, but recently, it has picked up steam. These spaces are the ultimate hack for small businesses and freelancers who want to maintain a polished professional image without the steep costs. For a modest monthly fee, members of virtual offices get a prime business address, mail handling services, occasional access to meeting rooms, and finally, the flexibility to manage their business from anywhere in the world. What more could one ask for?
Final Thoughts
Coworking spaces have evolved from a mere trend into a full-blown revolution in the way we approach work. So, it should not really surprise anyone that they have also diversified into many offerings from the traditional coworking spaces they were thought of. These spaces address unique challenges and are suitable for all sorts of businesses and professionals. You just have to make the right choices, and hopefully, with its insights, this post has been able to help you out.