In the past few years, the way we work has undergone a significant shift. Working 9-to-5 in a cubicle every day is no longer the only option that is available for professionals. With our rising dependence on technology, the possibility of remote work has undoubtedly presented itself as a viable option for most of the professionals out there. This has resulted in people looking for a more flexible and collaborative workspace to get their work done, hence the creation of coworking spaces.
Coworking is not something that has just sprung up in the last few years. Coworking has existed since the early 2000s – the dawn of the new millennium. However, recently more and more individuals and even businesses are indeed opting for these spaces to get their job done. The recent pandemic has also spurred new life in this concept, and remote working has become more and more of a norm. This is something that is easily backed up by the data, as by the end of 2024, the number of coworking spaces around the world is expected to grow to 42,000. So, it would not be a tall claim to make that the trend of coworking is not only here to stay but will be the way of the future.
The Concept Behind The Coworking Space
Coworking spaces worldwide have a simple concept – providing a shared office with essential operational facilities that professionals, entrepreneurs, and business owners can use. These plug-and-play office spaces are designed to be flexible and cater to various individuals belonging to varied industries.
However, one mustn't just think of them as just another office space. What sets these coworking spaces apart from the regular office is the wide range of amenities that are available to their members. Coworking office spaces offer top-notch amenities as part of the package. Additionally, the members also have access to meeting rooms, social areas, conference call facilities, and more. The creative and inspiring interior of the space also promotes collaboration among coworkers.
These facilities make coworking spaces a superior option compared to anything else that one might find. Any individual can simply reserve a place at these well-established premises and get going with their work – without any issue. This, in the gist, is what coworking space is all about.
Reasons Behind The Rising Popularity Of Coworking Spaces
While coworking spaces have been a viable option for work in the last couple of decades, these solutions have become more mainstream in the past couple of years. But why is such the case? Here are some reasons why coworking spaces have become so popular recently:
1. Changing Nature Of Work
It is no secret that traditional 9-to-5 office jobs are becoming less and less common. More and more people are opting to freelance or remote work from the comforts of their homes. It is a significant shift in the work culture as now people are no longer tied to a specific location or even a particular company. They are free from anywhere, and all they need is an internet connection to get going. Coworking office space provides the perfect solution for individuals that requires a flexible solution for their remote work.
2. Rise Of The Gig Economy
The gig economy has exploded in the past few years like never before. It is not uncommon nowadays to find people working as independent contractors and freelancers – something that used to be quite rare even just a decade ago. These professionals, however, still need a dedicated space to work from and even meet their clients. They also need essential amenities to ensure their work continues without being unnecessarily impeded. A coworking space can provide that.
3. Recent Pandemic
There is no way one can talk about coworking spaces' rising popularity without mentioning the recent pandemic's impact. The pandemic has upended the traditional office environment, forcing many companies to embrace remote work. Coworking spaces offer a safe and flexible solution for those who want to work outside of their homes but are hesitant to return to a crowded office.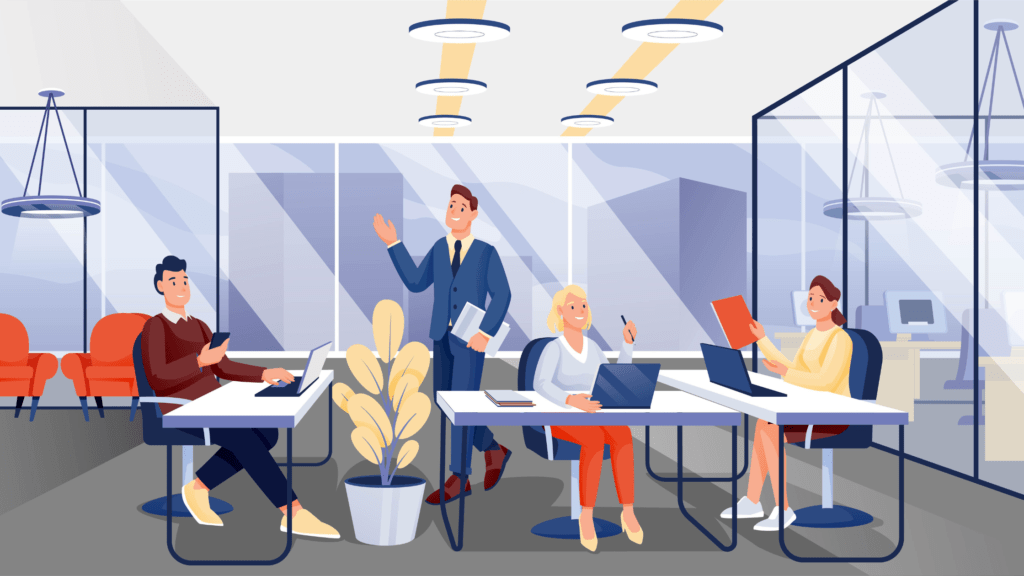 How Coworking Spaces Are Changing The Working Landscape
While it is true that the COVID-19 pandemic has certainly accelerated the rate with which professionals and companies are adopting coworking, it is something that has been emerging as a trend for some time. The pandemic has only highlighted the importance of flexibility in the workspace and even the need to adapt quickly to changing circumstances.
Coworking spaces have been at the forefront of this trend, providing businesses and individuals alike the agility and versatility they need to navigate an ever-changing work environment. It has resulted in a dramatic shift in our working landscape. Let's have a look at that.
1. The Opportunity To Connect With Other Professionals
Coworking spaces are shared spaces where professionals belonging to all types of industries come together. Naturally, these spaces work as a bridge between these people. Folks that might never have the opportunity to connect with like-minded professionals in different industries would find a new world opened to them with Coworking spaces. This sense of community can lead to increased collaboration and networking opportunities.
These spaces also offer regular events and workshops, which also provide an opportunity for members to work together, learn new skills, and collaborate.
2. Increase In The Productivity Levels
Coworking spaces are uniquely designed to promote productivity among their members. They come with open workspaces, private meeting rooms, and even quiet areas where individuals can wind down and relax after a long working stint. In addition to this, the amenities that are offered at these shared workspaces are nothing to scoff at. Dedicated desks, high-speed internet, and even a parking facility only result in creating an enhanced work environment.
It is something that has been proven to be accurate by various studies conducted in the last few years. A recent study conducted by Harvard Business Review finds that the productivity level of those that work at coworking spaces was at least a point higher than for employees with jobs in regular offices.
3. Providing That Essential Work-Life Balance
Work-Life Balance has become an increasingly important topic in today's fast-paced world. With the rise of technology and its usage for work, it has become almost too easy to stay connected with work at all times. It has become an issue for professionals to disconnect from their work and focus on their personal lives.
Coworking spaces promote that essential Work-Life balance that is needed for modern professionals. They offer access to a wide range of amenities that helps individuals stay focused and motivated throughout the day. Also, the flexible working hours these coworking spaces operate allow the members to set their work schedule and work at a time that suits them best.
4. Revolutionizing The Workspace Design
Coworking spaces are revolutionizing modern office space with innovative and fun interior designs. It is true that employees spend a significant amount of their time in their workplaces. And while traditional offices have no considerable downside, they overlook their employees' needs. They also have a bland and monotonous environment that does not allow their employees to excel.
Coworking office spaces are built differently in this regard. As mentioned, they have an innovative interior weight modern aesthetics, versatile seating arrangements, and a vibrant atmosphere that suits the millennial workforce. The impact of these revolutionary designs can also be felt in many traditional offices, as many forward-thinking organizations are seeing the positive effects of these and are now incorporating ergonomic designs in their workplaces.
5. Coworking Spaces Are Creating A Community
Coworking office spaces create a thriving community beyond work meetings – benefiting both independent professionals & organizations. This shared office space exposes these freelancers and solopreneurs to the larger business community and lets them stay up-to-date with emerging trends.
Additionally, these spaces also foster a sense of belonging and collaboration among the members, creating a strong community. It is something that is highly beneficial for independent working professionals as they may otherwise feel isolated and disconnected from the broader world.
The Future Of Coworking
Coworking is something that is continuously evolving to meet the needs of its members and the demand of the times. So, it would be wise for one to be aware of the emerging trends that will likely shape the future of coworking.
1. Integration Of Technologies
As our reliance on technology grows ever further, coworking spaces must meet the needs of their users and provide advanced technological solutions. Shared office space must have access to reliable high-speed internet connectivity and remote working tools that will allow their users to collaborate seamlessly with other professionals.
The recent trend in technology is the gaining popularity and acceptance of Virtual Reality and Augmented Reality tools. This integration could enable remote workers to have a more immersive experience and could help bridge the gap between virtual and physical workspaces.
2. Niche Coworking Spaces
Coworking spaces typically cater to a diverse range of professionals without any sort of restriction on the type of their work. However, as the coworking industry continues to grow, there is an increasing demand for shared office space that houses specific industries and communities. These niche coworking spaces may provide targeted support, resources, and networking opportunities that are specific to certain industries or professions.
3. Focus On Sustainability
In the past few years, working professionals around the world have become more conscious about the impact they have on our environment. This growing awareness has led to folks making more environmentally friendly decisions and reducing their carbon footprints. Coworking spaces are uniquely positioned to provide a more sustainable solution with their shared office space. It is something to watch out for in the future.
Conclusion
Coworking spaces, as it is pretty clear now, is a trend that is here to stay for the foreseeable future. It is also something that will continue to change the way we work – both because of their adaptability to the demands of the workforce and new work opportunities that lies ahead. And while they might be a disruptor in the current environment, that day is not far ahead when they will be a norm around the world.